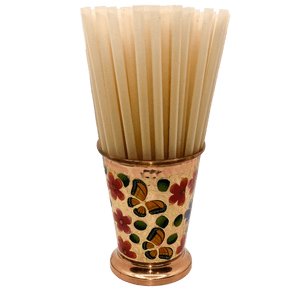 CHARACTERISTICS :
- Avocado Pit Straws by Biofase
- 100% biodegradable
- 100% compostable
- 100% organic
- Not adapted to hot temperature 
- Do not decompose in your glass
- Do not alter the taste of your drinks
- No edible
- Food contact ok (ASTM D68 66 & FDA FOOD standard).
Packaging: per bag of 1,000 straws or box of 2,000 straws (2 bags of 1,000 straws)
Available sizes: 21cm x 6mm
Colors available: Natural
Please note, this set does not include the glasses and supports used as an illustration model!
DESCRIPTION
These straws are made from avocado pits, where only pits intended for destruction are used in their design. No avocado production is implemented to supply the production needs of straws. Coming from Mexico, being shipped by boat fueled with LNG (Liquefied Natural Gas), thus making its carbon footprint almost zero, this alternative is now the favorite of our consumers.
Avocado Pit straws are made from renewable and sustainable resources and are fully biodegradable.
These are today the product with the best quality / price ratio on the market. 
This product is suitable for both cold and hot drinks. The straw does not bend, does not dissolve and stays in the glass for a long time. It will allow you to consume your drink with a straw that does not pollute our planet.
After use, it is disposable and decomposes after 240 days of exposure (compared to 100 to 1000 years for plastic). Avocado straw is natural and harmless. This new alternative to plastic straws is revolutionizing and surprising consumers.
"Biofase" Spot 2D from CEDIM Animación we Vimeo.
All rights reserved by CEDIM Animación
USE :
Avocado stone straws are suitable for all types of drinks, cold or hot.
Very practical for consuming cold liquids such as soft drinks, smoothies or cocktails. But is equally suitable for your hot chocolates or Irish coffees.
Avocado stone straws are not edible.
DELIVERY AND RETURN TIMES
Once your order has been placed, we prepare it and ship it within 48 working hours. 

You will receive a tracking number by email to allow you to track the delivery of your order as soon as it is shipped. Once the order has been shipped, the delivery time depends on the place of destination from mainland France:
• 48 hours or 2 working days: to mainland France (including Corsica), Monaco, Andorra 
• 5 to 7 days (indicative timeframe): to Overseas Territories 
(1) 
• 7 to 10 days (indicative timeframe): to Overseas Departments (2) 
(1) OM: Guadeloupe, Guyana, Martinique, Réunion and Mayotte. Overseas territorial communities: Saint-Barthélemy, Saint-Martin and Saint Pierre et Miquelon.
(2) OM: New Caledonia, French Polynesia, Southern Territories, Wallis and Futuna.
You can return the products to us within 14 days of the receipt date indicated by the tracking. The products must meet the following criteria: 
- not have been used
- be complete
- not to be damaged
We ask you to send us an email requesting return and refund with your contact details as well as the number of your order and your RIB. Return costs are the responsibility of the customer. Once the merchandise has been received and verified, we will reimburse by wire transfer within 30 days. 
In accordance with the legislation, personalized products do not benefit from a return.